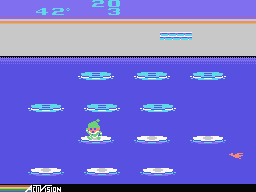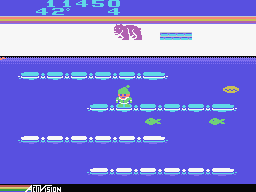 Part survivor, part architect, part nuts, Frostbite Bailey eats raw fish for sustenance but really dines on danger! Help him construct igloos by jumping on floating blocks of ice! Each igloo must be completed before the weather gets too cold, but this is certainly no easy task, as Frostbite must not only contend with water currents that make the ice blocks move in different directions, he must also avoid wild animals like snow geese, king crabs, killer clams and a bear that follows him like a shadow on the shore! Stay one step ahead of all the hazards and survive to reach the highest possible score!
This game is part of the Team Pixelboy Budget Series.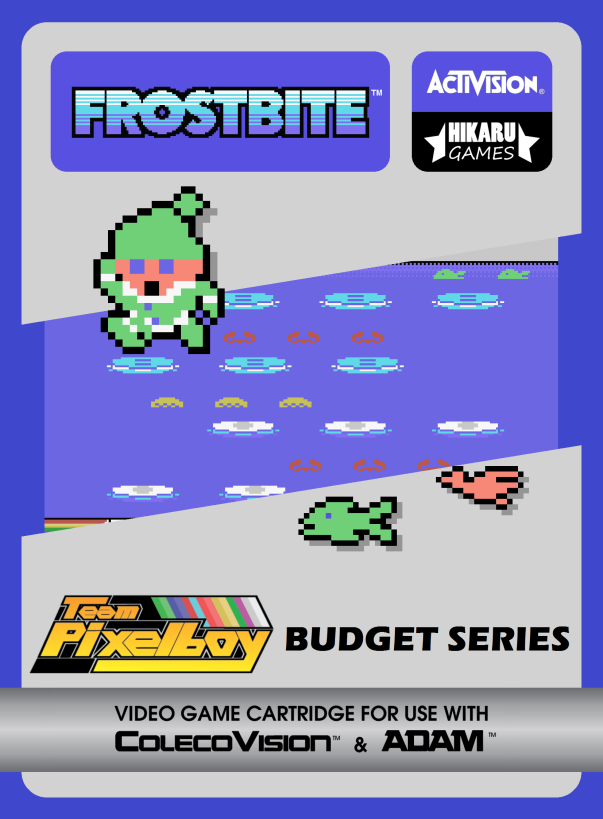 My good friend Óscar Toledo Gutiérrez (creator of Princess Quest, Mecha-8 and Mecha-9, and creator of the CoolCV emulator) received some very bad news back in spring 2016: His wife was diagnosed with stage-4 lung cancer, and she had to give birth to her daughter prematurely so she could receive chemotherapy treatments. When I learned about this, I decided to help Óscar with the medical bills by starting a new budget-priced series of Team Pixelboy games. These games are mostly ColecoVision ports of MSX homebrew games that were submitted to the MSXdev contests in recent years, and there are a few games coded from scratch as well. Some of the money from the sales of these budget games went directly to Óscar.
Frostbite on ColecoVision has an interesting history: Software development started during the winter months of 2016, long before the budget series came into being. Yep, that's right: Frostbite was supposed to be a regular Team Pixelboy release, and at first I wasn't even aware of its existence! Antoni Burguera was developing the game in secret, and when he eventually showed the game to me, I was quite pleasantly surprised! When the budget game project started, I suggested to Antoni that perhaps Frostbite should be published as a budget game, and he immediately agreed, since he wanted to help Óscar like the other homebrewers who offered their games to the cause. Frostbite turned out to be the most pre-ordered game in the entire budget lineup.
The budget games were released in limited quantities, just enough to honor all pre-orders recorded during the summer of 2016. I would like to thank everyone who pre-ordered these games and helped our friend Óscar in his time of need.
This game was completed and released in 2017.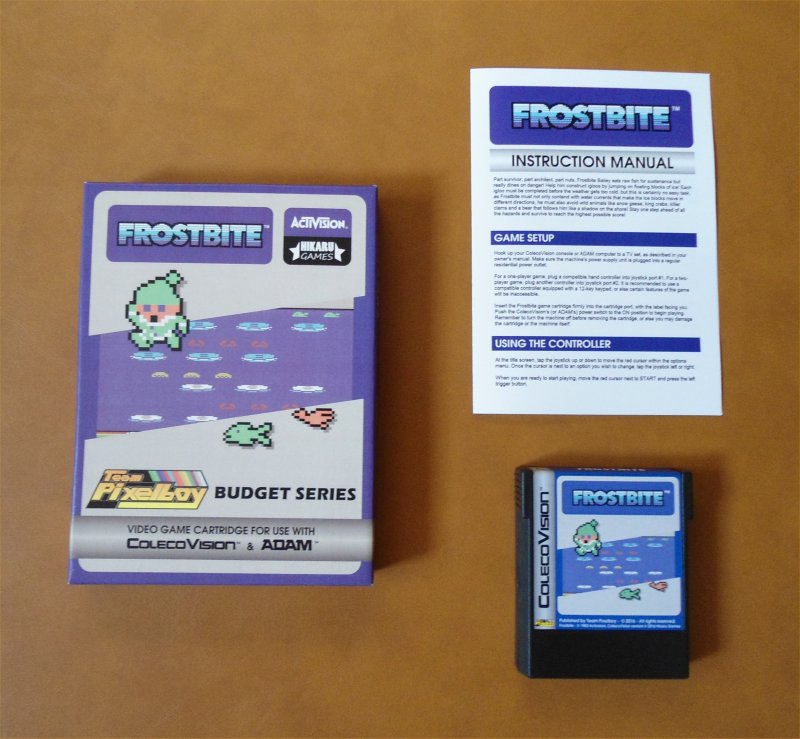 TEAM PARTICIPANTS
Steve Cartwright : Original designer and programmer
Antoni Burguera : Graphic design and programming of ColecoVision version
Carlo Bandini : Music
Brice Zaragoza : Software beta-testing
Luc Miron : Game graphics, beta-testing, box design, game manual and cartridge label
Harvey deKleine : Electronic sourcing and assemblies
SPECIAL THANKS:

Tobie St-Aubin and Albert Yarusso.