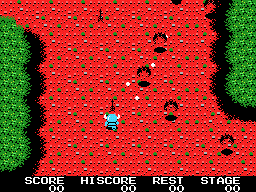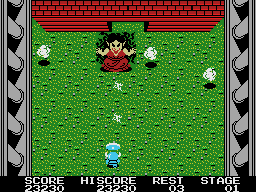 Popolon versus an army of demons: A true Knightmare indeed!
Face untold horrors straight from Greek mythology in this vertical shoot-em-up for your ColecoVision! Aphrodite, the goddess of love and beauty, is trapped in the Nightmare Castle of the King of the Underworld. Brave warrior Popolon vows to rescue her, and so begins an epic journey to Mount Atos, beyond which the Nightmare Castle is located. Guide Popolon as he marches onward, as countless demons of all shapes and sizes try to stop him from reaching his beloved Aphrodite.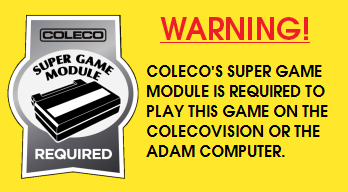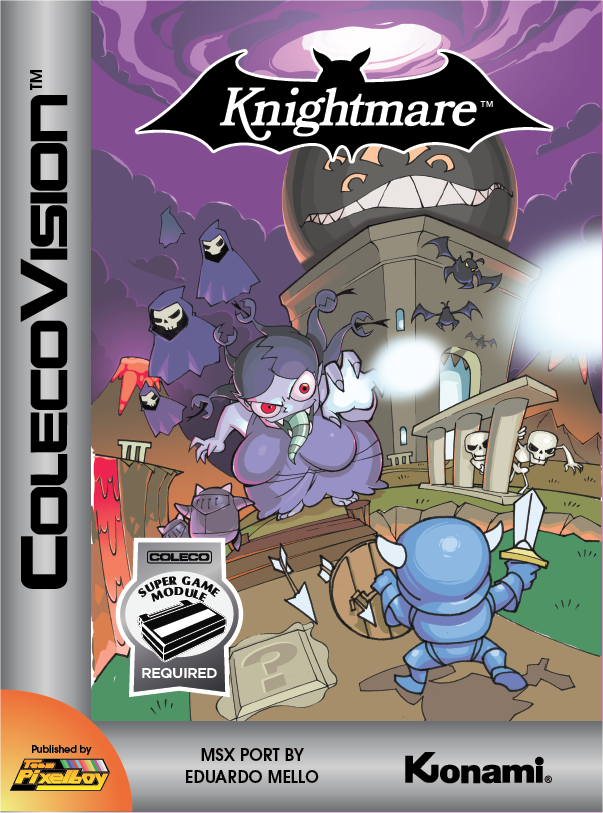 In October of 2012, Eduardo Mello decided that he wanted to mostly concentrate on arcade ports, where his Opcode Games publishing label was concerned. As a result, he offered me the chance to publish some of the MSX games he had already ported in the past but hadn't released yet (mostly because they require the Super Game Module to run) including Knightmare. I accepted the offer of course, but over the last few years, the project went back and forth between Team Pixelboy and Opcode Games, because deep down Eduardo wanted to publish this game himself. Unfortunate events in Eduardo's life led him to let Team Pixelboy publish the game.
It should be noted the ColecoVision version features a skill-select option that is not available in the original MSX game.
Team Pixelboy is proud to take part in the effort to provide more games for the owners of Opcode's Super Game Module!
This game was completed and released in 2015.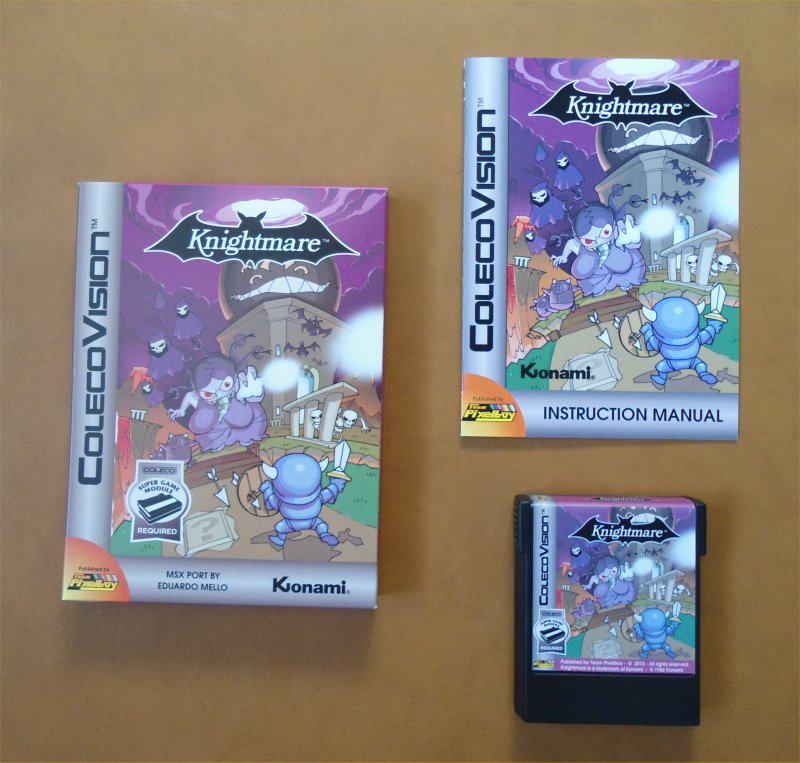 TEAM PARTICIPANTS
Eduardo Mello : Software port and beta-testing
Luc Miron : Box design, game manual, cart label, software beta-testing
Robert de Jesus : Box art
David Frost : Software beta-testing
Owen Frost : Software beta-testing
Dale Crum / Doc4 : Game manual layout (www.doc4design.com)
Oliver Puschatzki : Box printing services
Harvey deKleine : Electronic sourcing and assemblies
SPECIAL THANKS:

Chris Derrig, Brian Klug, Todd Williams, Albert Yarusso, and all AtariAge forum members.