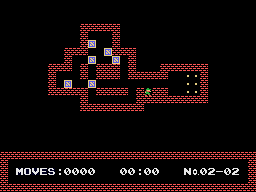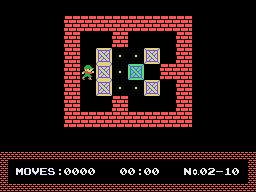 Manual labour has never been this much fun!
Winning the heart of the girl of your dreams is no piece of cake, especially considering the girl in question has expensive tastes! Earn money by pushing crates inside bizarre warehouses into their intended positions. You can only push crates, not pull them, so be careful not to push a crate into a position where it can no longer be moved!
Once you have solved all the puzzles, create your own with the level editor, and save your creations on the game cartridge!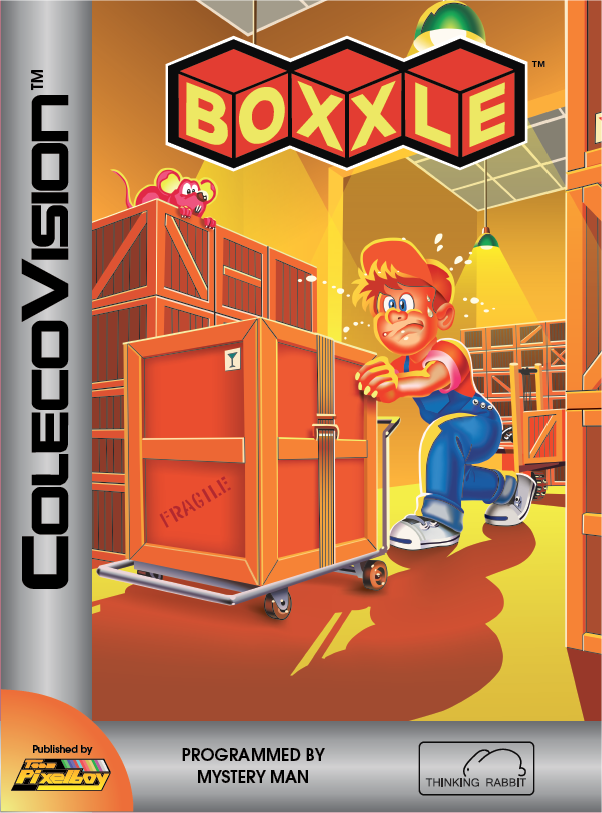 I used to own the original Game Boy version of Boxxle several years ago, and I got so hooked on it that I actually solved every puzzle and finished the game! The only reason I didn't buy Boxxle II was because I had more interesting games to play at the time, and I never got around to playing the sequel. Suffice it to say I love this kind of puzzle game, and I really wanted to see it on the ColecoVision. I could have named it by its original name of Soukoban, but Boxxle sounds better, in my humble opinion.
In April 2014, Mystery Man offered me a special gift for my birthday: He offered to program Boxxle from scratch, and to make it a 64K game with EEPROM savegame feature, just like I always wanted!
Mystery Man and I worked together over a few months to develop the software. The final product is actually two games in one, because using a 64K ROM allowed us to include all the levels and intermissions from Boxxle and Boxxle II! A level editor is also included, and the player can save up to 30 different level creations on the cartridge! The included EEPROM also allowed us to replace the password system from the Game Boy games with an instant savegame feature that records the best time and lowest number of moves for each completed puzzle, including the puzzles created with the level editor.
This game was completed and released in 2015.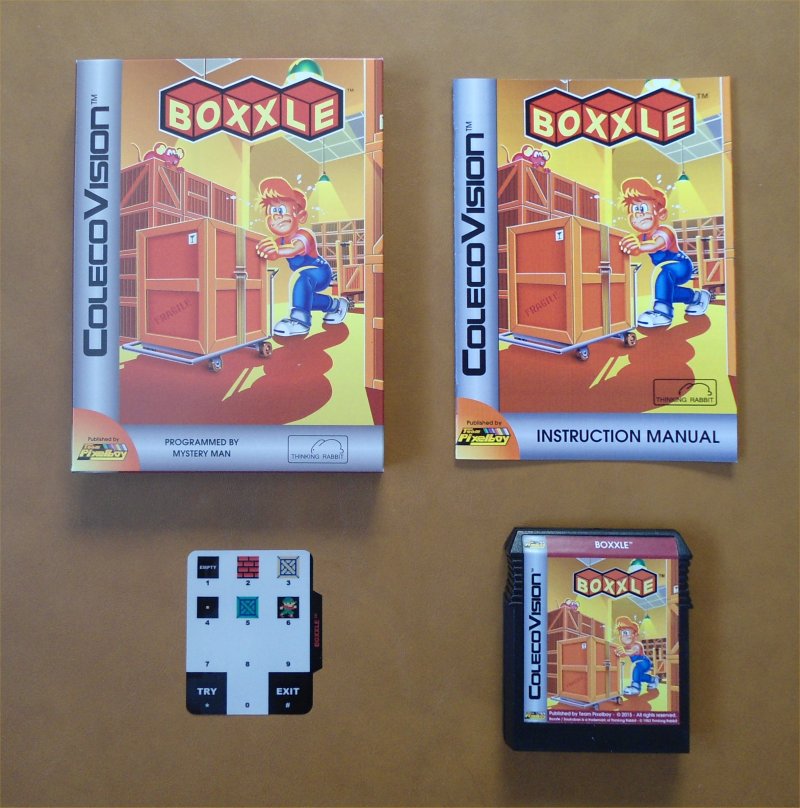 TEAM PARTICIPANTS
Mystery Man : Software programming and beta-testing
Daniel Bienvenu : Music conversion and encoding
Luc Miron : Box design, game manual, cart label, software beta-testing
Dale Crum / Doc4 : Game manual layout (www.doc4design.com)
Oliver Puschatzki : Box printing services
Fred Quimby : Cartridge PCB design
Harvey deKleine : Electronic sourcing and assemblies
Phil Boland : Overlay printing services
SPECIAL THANKS:

Reinhard Traunmüller, Dan Michaels, Christian Martin, Kendal Mertens, Jim Notini, Andrew Schultz, Albert Yarusso and all AtariAge forum members.