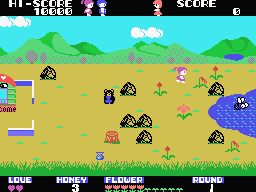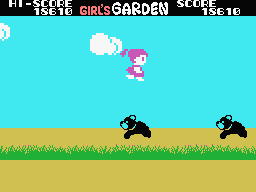 Help little Papri win the heart of Minto, the boy of her dreams!
Love is in the air in Papri's garden, as she secretly dreams of dating Minto, the local dream boy. Luckily, Minto loves flowers, and Papri's garden is filled with them, so all she has to do is collect enough of them and give them to Minto to gain his affection. However, time is growing short, as Papri's rival Kokko also has Minto in her sights! Guide Papri around her garden as she collect flowers during the short time that they are in full bloom, while evading bears and avoiding falling into water. Play a bonus game of bear-leaping in between rounds for additional points.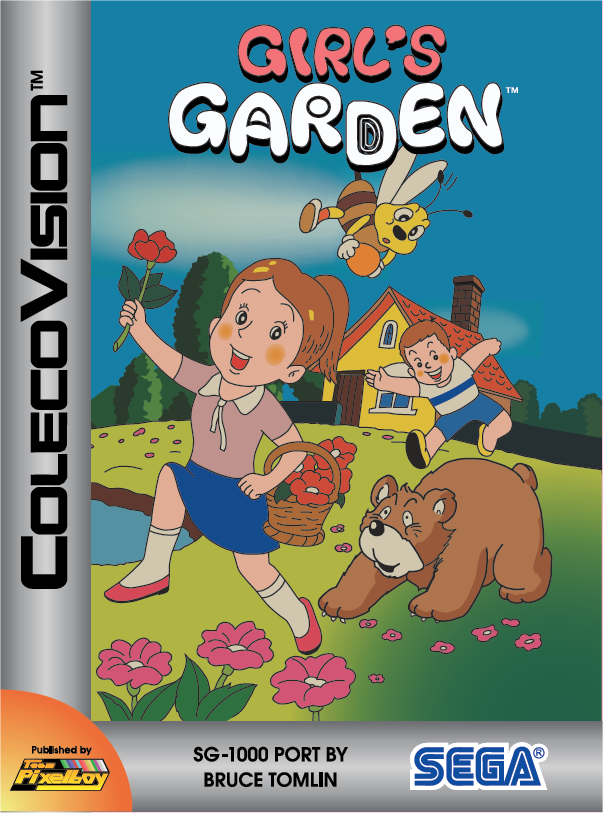 To be perfectly honest, I wasn't really sure if I wanted to add Girl's Garden to my already long list of projects. While the idea of a cute, non-violent game is appealing, not everyone is into this kind of game, so I felt that its potential to interest ColecoVision fans was uncertain at best. Two events changed my mind: First of all, I was able to have 100 light pink ColecoVision cartridge casings manufactured, which were perfectly suited for Girl's Garden, and secondly, when I told Bruce Tomlin that I had these casings ready, he offered to port the game to the ColecoVision himself! So of course, I decided to go for it, since I'm not one to overlook a great opportunity.
Interestingly, Girl's Garden was the very first commercial game created by Yuji Naka, the main guy behind Sonic the Hedgehog, so porting his work to the ColecoVision is an honor in itself.
The game may look cute, but don't let that fool you into thinking it's an easy game, as it gets quite challenging in the later levels, and this makes Girl's Garden a worthy addition to the ColecoVision library.
This game was completed and released in 2010.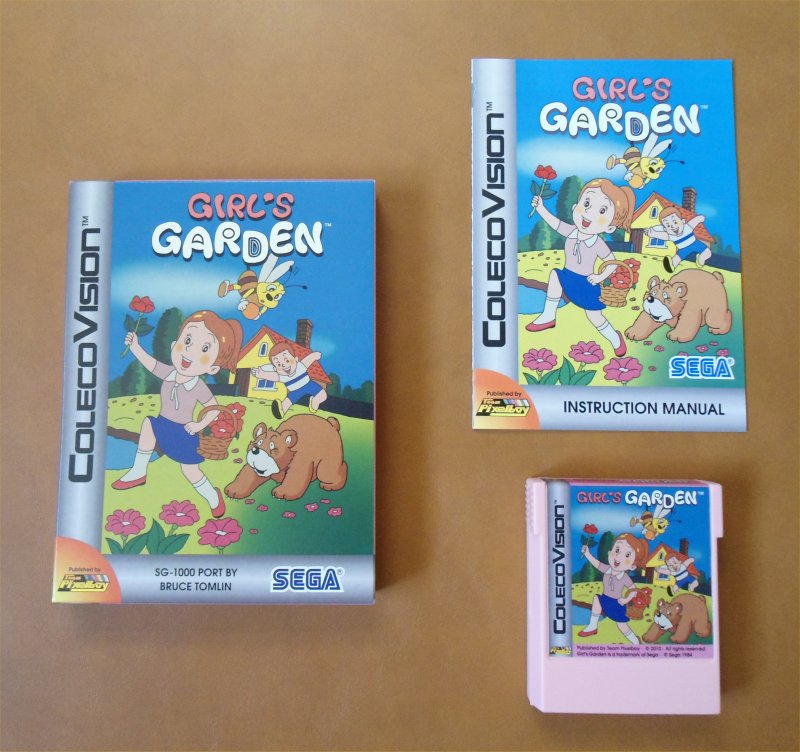 TEAM PARTICIPANTS
Bruce Tomlin : Software port and beta-testing, japanese manual translation
Luc Miron : Game manual, cart label, software beta-testing
Michael Di Salvo : Software beta-testing
Dale Crum / Doc4 : Game manual layout (www.doc4design.com)
Oliver Puschatzki : Box printing services
Harvey deKleine : Electronic sourcing and assemblies
SPECIAL THANKS:

Jean-François Dupuis and all AtariAge forum members.