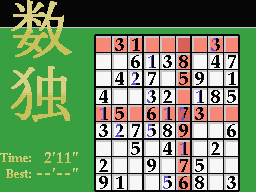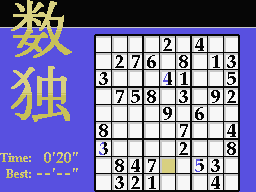 To solve a Sudoku puzzle, place a number into each cell so that each row, each column, and each small 3x3 box within the larger puzzle will contain every number from 1 to 9. In other words, no number may appear more than once in every row, column, or 3x3 box. The game is initialized with predefined numbers and the objective is to complete the puzzle with the missing numbers that will lead to the correct solution. The game features three levels of difficulty: Novice, Adept, and Master.
This game is part of the Team Pixelboy Budget Series.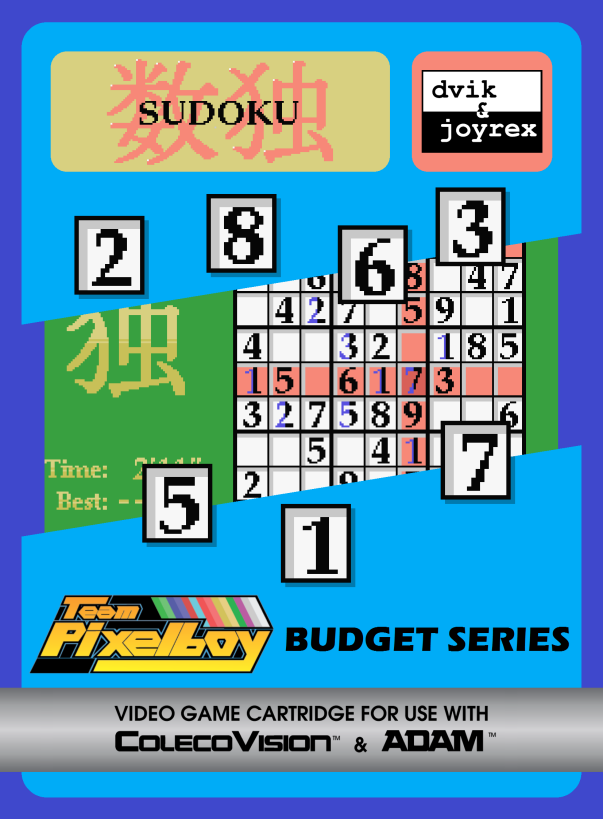 My good friend Óscar Toledo Gutiérrez (creator of Princess Quest, Mecha-8 and Mecha-9, and creator of the CoolCV emulator) received some very bad news back in spring 2016: His wife was diagnosed with stage-4 lung cancer, and she had to give birth to her daughter prematurely so she could receive chemotherapy treatments. When I learned about this, I decided to help Óscar with the medical bills by starting a new budget-priced series of Team Pixelboy games. These games are mostly ColecoVision ports of MSX homebrew games that were submitted to the MSXdev contests in recent years, and there are a few games coded from scratch as well. Some of the money from the sales of these budget games went directly to Óscar.
One of the first guys I contacted was Daniel Vik, creator of the blueMSX emulator, and one of the two guys behind Dvik & Joyrex. I was aware that they had created a nice game of Sudoku for the MSX a few years back, and I thought it would make a great little budget game for ColecoVision. Not only did Daniel accept my publishing offer, but he also went the extra mile to make his ColecoVision port of Sudoku not require the Super Game Module. This meant making the game run in 1K of RAM (not too much of a problem in this case) and also to tweak the background music for the ColecoVision's native sound chip.
The budget games were released in limited quantities, just enough to honor all pre-orders recorded during the summer of 2016. I would like to thank everyone who pre-ordered these games and helped our friend Óscar in his time of need.
This game was completed and released in 2017.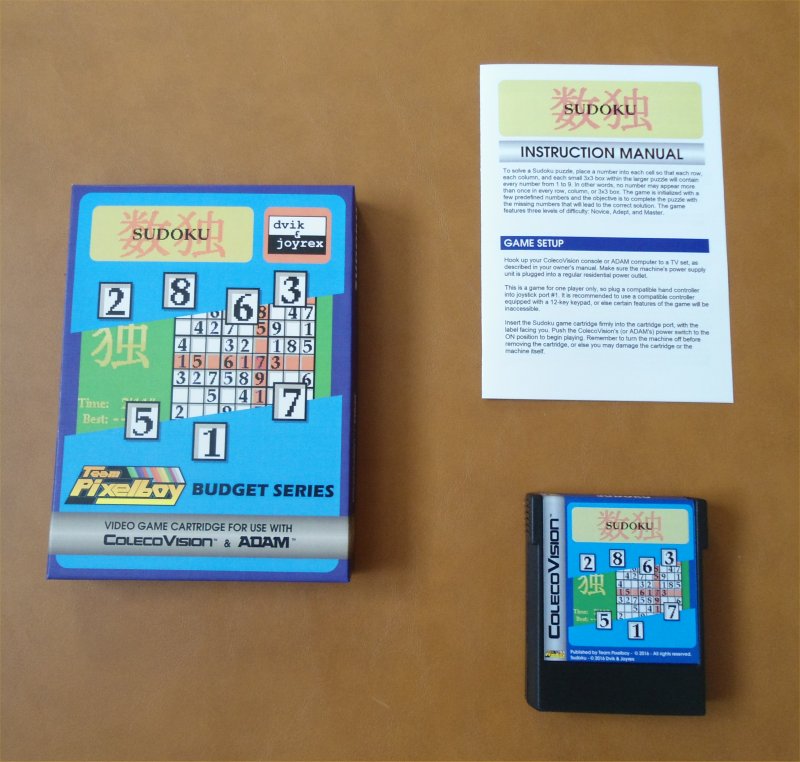 TEAM PARTICIPANTS
Daniel Vik : Programming, music, ColecoVision version
Vincent Van Dam : Programming, ColecoVision port
Michael Markowski : Software beta-testing
Luc Miron : Box design, game manual, cartridge label
Harvey deKleine : Electronic sourcing and assemblies
SPECIAL THANKS:

Tobie St-Aubin and Albert Yarusso.