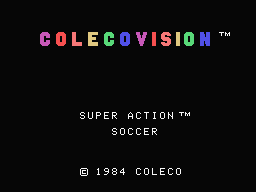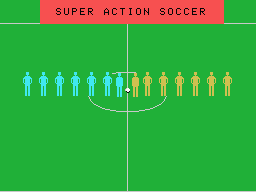 The world's most popular sport finally comes to America!
Super Action Soccer gives you the chance to be the most accomplished star player of any team that ever was. You will be the goal-keeper diving to make incredible saves, the full back with fierce last minute tackles, the mid-field "general" directing shrewd passes and the centre forward scoring great goals. You will be involved all the time in the most exciting moments of the game. You will score the winning goal!
In early 2012, I decided I wanted to do something special for the 30th anniversary of the ColecoVision, something aside from releasing 8 new games at the end of the year. I wasn't really sure what I could fit into my busy schedule, but then I thought about the prototype cartridges that Eduardo Mello put under auction on eBay a few years before. I thought perhaps I could do something similar, but I didn't have any game prototype to offer in cartridge format. So for a while, I let the idea simmer in the back of my head.
One day, in May 2012, I was browsing on the net and I came across Philipp Klaus Krause's mini-cartridge homebrew kits. I saw the red cartridge shells, and suddently I knew exactly what I wanted to do: Create a limited-edition official version of a ColecoVision game that was released in Europe but never in North-America: Super Action Soccer! And I was going to use the mini-cart homebrew kits to do it! The concept of Collector Mini-Carts was born!
It took a bit of work, but I managed to hack the ROM dump of the game to replace "FOOTBALL" by "SOCCER" on the title screen, ans also in the opening sequence of the demo mode, as you can see in the two screenshots in "The Game" sub-section. But the mini-cart alone wasn't cool enough for me, so early on in the project, I decided that I would offer a full package, which would include a manual and something that hadn't been done before as a homebrew project: a Super Action Controller overlay.
While Dale Crum helped me with the manual and Phil Boland helped me with the cartridge label, Oliver Putchatski helped me find a printer in Germany that could print Super Action Controller overlays and cut them in a professional, die-cut fashion. Dale took care of the overlay template, and Oliver made sure the final result was nothing less than perfect. I was really happy with the result, and I also knew that it was now totally possible for me to print other Super Action overlays in the future. Perhaps one day I will do other homebrew Super Action overlays...
I purchased some beautiful hinged plastic containers from Uline that were the perfect size to house the mini-carts and the manuals, but they were a little too big in terms of height, so I had to devise some kind of filler piece so the mini-cart wouldn't move all over the place inside the container. My first idea was a specially-carved wood piece, and I enlisted the help of Brian Gordon on AtariAge, who experimented with the CNC machine at his job. That plan didn't work out very well, so Brian suggested designing a metal filler instead. That didn't work out too well either, so in the end I just used plain foam fillers. It was not an ideal solution, but I needed this project done by the end of the year, and I was running out of time.
The complete packages (mini-cart, manual, overlay and plastic container with foam fillers) were ready by the end of November, and I put five such packages under auction on eBay between November 29th 2012 and January 3rd 2013. Hardcore ColecoVision collectors paid quite a lot of money to acquire them, and while monetary profit was never the end goal of this project, seing the bidding go ever higher was quite fun.
I have no intention of producing any more Collector Mini-Carts in the future. At one time, I did consider doing a hack of Spy Hunter that would use the Coleco Steering Wheel controller instead of regular controllers, but some analysis by my friend Mystery Man revealed that this was impossible to do at the software level within the 32K ROM limit.
This game was completed and released in 2012.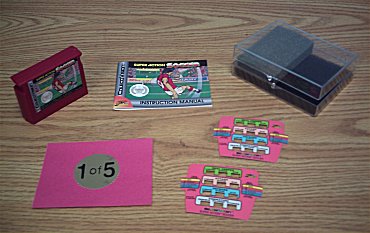 TEAM PARTICIPANTS
Luc Miron : Software alteration, game manual, cart label
Dale Crum / Doc4 : Game manual layout (www.doc4design.com)
Philipp Klaus Krause : Electronic sourcing and cartridge supply
Harvey deKleine : Electronic assembly
Oliver Puschatzki : Overlay printing services
Phil Boland : Cart label printing services
SPECIAL THANKS:

Brian Gordon, Albert Yarusso, and all AtariAge forum members.